Mather CEO Leary: 5-Year Study Shows Life Plan Community Resident Wellness Is 'No Fluke'
By Austin Montgomery | April 26, 2023
Source:  seniorhousingnews.com
Half a decade ago, Mather Institute set out to study the health and wellbeing of life plan community residents with Northwestern University. On the heels of its fifth year of results, the Age Well Study is still shedding new light on the preferences of older adults, and showcasing the benefits associated with living in life plan communities.
For life plan community operators, the study has reinforced again and again that residents living in their communities have better physical, intellectual, emotional, vocational and social wellness compared to older adults living at home. And operators of those communities should broadcast the "groundbreaking" results far and wide, according to Mary Leary, who is CEO of Evanston, Illinois-based Mather.
"We were cautiously excited regarding year-one results in which residents rated themselves higher on five of six dimensions of wellness," Leary told Senior Housing News. "We realized that was no fluke because residents continued [in the following years] to rate themselves higher on those same dimensions."
The study's timing is significant as senior living operators look to differentiate themselves while meeting a growing demand for wellness-focused programming and operations.
Mather has four communities across the U.S., including three that are life plan communities. The company's latest project, The Mather, is currently coming together in the D.C.-adjacent market of Tysons, Virginia.
Five years of findings
The Age Well Study has evolved over time, focusing on topics such as physical health, happiness and how life plan community residents felt during the pandemic.
The study was conducted by surveying over 8,000 residents across 122 life plan communities over the last five years. Resident responses were compared to a "demographically similar sample" of older adults.
To glean how residents in life plan communities have felt over the last half-decade, researchers in 2023 compared the study's first-year and fifth-year results.
"We had a hope and a dream that we'd be able to engage people well enough that they would stick with us throughout the five years and many of them did," said Mather Institute Senior Vice President, Cate O'Brien, Ph. D., who led the study.
Perhaps the biggest takeaway from the latest analysis is that life plan community residents have better markers of wellness — such as physical, emotional, social, intellectual and vocational wellness — compared to older living at home. However, they also reported lower spiritual wellness.
"Residents are extremely healthy and well, and [the study] reinforces that a life plan community is a really positive environment with a lot of wellness opportunities across the board," Leary said.
In the fifth year of the study, life plan community residents showed better health outcomes and physical activity levels compared to their older adult counterparts. Life plan residents also saw higher levels of life satisfaction, optimism and perceptions of aging, the data shows.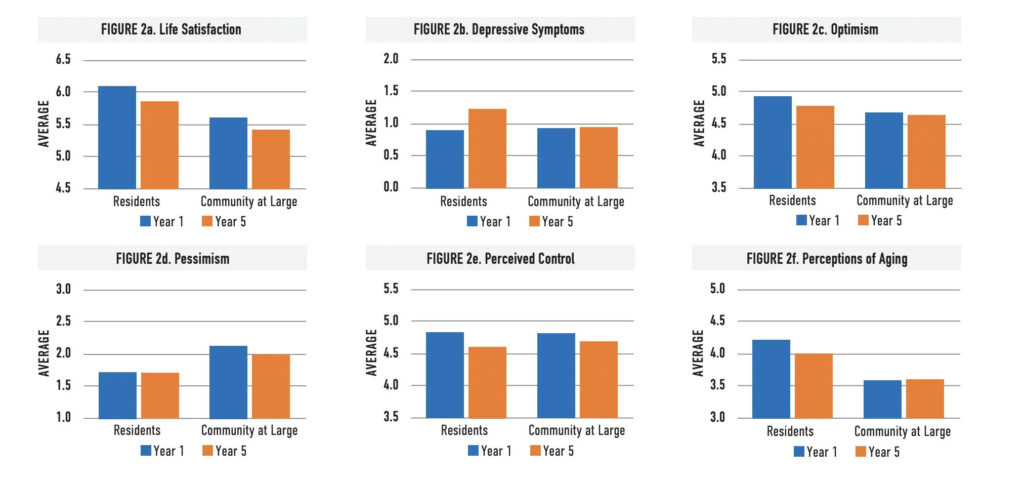 Over time, emotional wellness of life plan residents tended to be more stable, but reported more depressive symptoms with decreases in optimism and positive perceptions of aging. Both groups displayed declines in perceived control over time, while life satisfaction decreased similarly in both groups from the study's first and fifth years.
In terms of social wellness, life plan community residents exhibited greater social wellness on "all measures" relative to their at-large older adult counterparts.
With regard to memory and intellectual activities, life plan community residents in year five reported better memory and higher participation compared to the outside group of older adults. Engagement in activities decreased for outside older adults but increased for life plan community residents.
"Community-at-large respondents displayed more decreases in activities, particularly in writing and playing cards or games, whereas residents showed more increases in activities, such as writing and attending education or training," the study noted.

Life plan community residents also reported an increase in social engagement during the Covid-19 pandemic.
About half of the responses from those outside life plan communities came prior to the start of the pandemic, with the most recent surveys dating between April 2018 to June 2019 and March 2020 to March 2021.
That is contrasted with life plan community resident data, which extended into 2022.
"We want to revisit the data in 2024 when we're able to gain more updated data from the Health and Retirement Study by the University of Michigan," O'Brien said.
Building on programming, services
Life plan communities already typically offer a wide array of programming, services and amenities to residents, from educational classes to fitness regimes and social events. But operators of those communities can use the latest findings to fine-tune their programs and services to an incoming generation.
The fifth-year report proposes strategies to expand services and wellness offerings, including:
Encouraging residents to participate in existing programming that may support their wellbeing
Enhancing existing offerings related to emotional wellness
Addressing ageism and promoting a more positive perspective on aging
Supporting residents' ability to participate in religious or spiritual activities
Personalizing wellness offerings

As for the roadmap for getting there, that could lie with innovative shifts in thinking. For example, Mather and the Mather Institute in 2021 introduced the Person-Centric Wellness Model as an alternative to the six-dimensions-of-wellness model that has been prevalent in senior living for decades.
Mather's wellness model contends that traditional wellness standards fail to account for environmental factors related to wellness, and Mather is in the process of launching five projects tied to its wellness initiative. The new wellness model focuses on the "Three A's": autonomy, achievement and affiliation; with autonomy being the need for self-determination, achievement being the need to have a sense of purpose and affiliation being the need for meaningful social interactions with others.
With baby boomers entering the marketplace and an aging population only set to drive demand for senior living ahead, Leary said life plan community operators should embrace new ideas and programming. Sharing results of recent data to support why older adults should consider senior living helps the industry as a whole, Leary said.
Mather sales teams will use the data as an "attention-getter" and also as a sales closing tool to encourage people to move into a life plan community.
"When we share the results of these studies, it makes a difference to prospects considering a move, so we plan to widely publish, share and educate our sales teams on these results," Leary said.