Connected to our roots, our values, and our communities.
Our History
The mission of BHI Senior Living Inc. is to enhance the quality of life for older adults within a secure environment that supports their needs, values, interests, and independence while encouraging personal and spiritual development.
From humble beginnings to an industry leader in senior living
The seed of BHI Senior Living was planted in 1904, when Edward and Sarah Crawford donated 185 acres of land in Boone County, Indiana, to the American Baptist churches. With additional funding from American Baptist churches, their gift became The Crawford Baptist Industrial School — a non-profit orphanage and industrial school that opened in 1905.
In 1952, a new era began for the organization with the opening of our first Life Plan Retirement Community, Hoosier Village in Indianapolis. With Hoosier Village, Indiana seniors were introduced to a new approach to retirement living — one that places the needs of residents as our highest priority.
Today, BHI Senior Living has seven Life Plan Communities and two Active Adult Communities in the Midwest. Hoosier Village, The Towne House, Prairie Landing, Four Seasons, Wesley Manor, Athens Crossing, and The Barrington of Carmel are located throughout Indiana and Clark Retirement in Michigan. Each community provides high-quality, maintenance-free residences; a full continuum of healthcare services, including assisted living, memory care, skilled nursing, and rehabilitation services; and a fulfilling lifestyle for active seniors.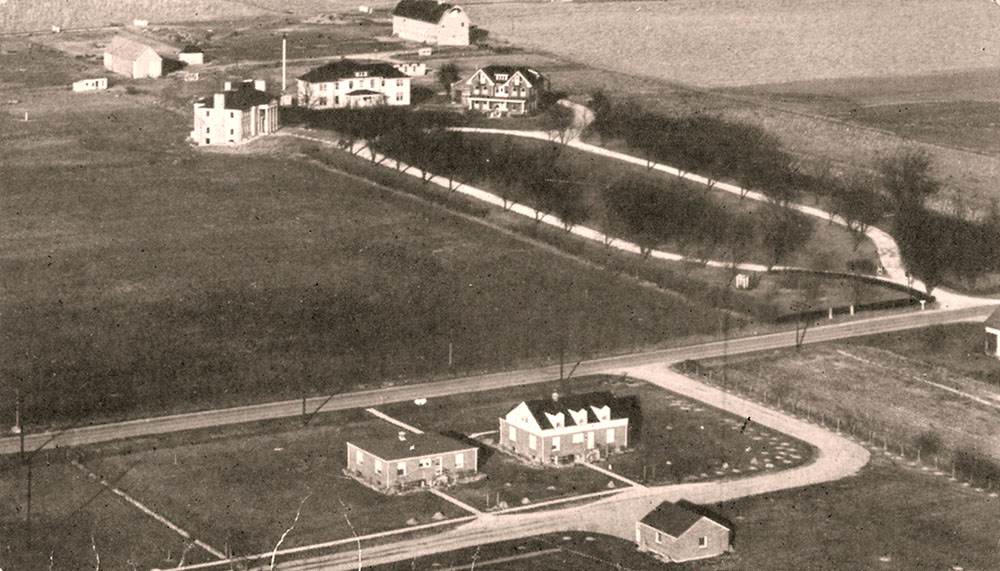 One of the most financially stable senior living organizations in the midwest.
Throughout our long history in Indiana, BHI Senior Living has maintained a robust financial position — despite the ups and downs of the national economy — and has earned a BBB+ rating from Fitch, the international financial rating agency.
BHI's healthy financial profile has enabled us to continually provide residents of our Life Plan Retirement Communities with a fulfilling, active retirement lifestyle, a full continuum of healthcare, and the promise and peace of mind that accompany long-term stability — including the availability of benevolent care if needed.
BHI's financial and operational strength is a direct result of the expertise, dedication, and conservative fiscal approach of our management team and board of directors. We are proud of our commitment and ability to offer Indiana seniors a truly secure investment in their future. For a detailed view of BHI Senior Living Inc.'s financial status, download our most recent Financial Stability Disclosure statement.
BHI Senior Living strives to ensure that every resident who lives at one of our Life Plan Retirement Communities is empowered to live life to the fullest.
It's a lifestyle filled with opportunities to enhance wellness; enjoy exceptional services, amenities, and activities; and live in a community filled with good neighbors and caring staff. For more than 25 years, the BHI Foundation has been instrumental in helping us attain that goal.
The generosity of our donors allows the BHI Foundation to contribute to community projects both within our Life Plan Communities and throughout their respective cities. These projects improve and enhance our residents' quality of life, as well as make us good neighbors in our communities.
Our Leadership
Our leadership team is dedicated to bringing the BHI mission to life by keeping residents at the forefront of every decision. Their passion for the exceptional care of others guides the team in the successful management of one of the midwest's most prominent not-for-profit organizations. 
John S. Dattilo
President and CEO
John Dattilo joined BHI in 2003, when he became executive director of Four Seasons. During his five-year tenure there, Dattilo delivered excellent financial performance and occupancy levels, and maintained high standards of regulatory compliance and patient care. John was promoted to director of operations for BHI in Indianapolis in 2008 and, three years later, was promoted to vice president of operations. Dattilo has spent his career in the senior living industry, including serving in various capacities at senior communities in Rising Sun and Frankfort before working in Columbus. He teaches classes in long-term care management as an adjunct professor at Indiana University-Purdue University Indianapolis. He also serves on the board of LeadingAge Indiana and has been a surveyor for CARF-CCAC, the national accreditation organization for senior living providers. A Madison, Indiana, native, Dattilo earned his bachelor's degree from Indiana University Southeast and his M.B.A. with a focus in healthcare from Indiana Wesleyan University. He lives with his wife, Janda, and their four children in Zionsville.
Roger E. Weideman II
Sr. Vice-President and CFO
Roger E. Weideman II, CPA, joined BHI Senior Living in May 2010 as Vice-President and CFO, In June 2010, he was appointed a director on the Board of Directors.  In January 2018, Roger was named Senior Vice-President and CFO. Prior to joining BHI, Roger served five years as a managing consultant with BKD LLP (Thomas Healthcare Consulting Inc.) in Indianapolis. Previous professional experience also includes 12 years in public accounting — five years as a manager with Katz, Sapper & Miller LLP, and seven years with Bradley & Associates Inc., where he began as a staff accountant and was then promoted to a manager position. He also currently serves as treasurer of the LeadingAge Indiana board. Weideman earned a bachelor of science degree in accounting (with "High Distinction") from Indiana University. He was a recipient of the Indiana High Grade Award and the Elijah Watt Sells National Award for his scores on the CPA exam. Professional affiliations include the American Institute of Certified Public Accountants, the Indiana CPA Society, and the Healthcare Financial Management Association. Weideman lives in Fishers with his wife, Rachel, and their three children.
Dan Carr
Nancy Nelson
Jeannie Ambler
Elwood A. Conaway III
Jay Rumbach
Chris Bryde
Jim Stahl
Brian Pangle
Mark Prifogle
Tim McGowan
Percell Smith, Jr.

Find out how the BHI Foundation enhances the lives of our residents and benefits the surrounding communities.
Find answers to the most frequently asked questions about BHI Senior Living.
Learn about career opportunities at BHI Senior Living or any of our seven communities.
Contact us to learn more about BHI Senior Living, the BHI Foundation, or our communities.